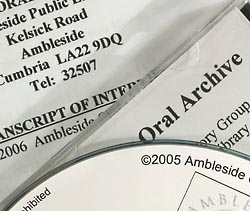 Copies of Interviews
Ambleside Oral History Group is a non-profit organisation run entirely by volunteers. It is funded mainly by members' fundraising efforts and occasionally by grants and donations if available.
We supply copies of interviews made by Ambleside Oral History Group only (not by other groups we host). Sound CDs and transcripts are available.
Prices:
Sound CD copy of interview £12.00
Transcript of interview (sent as email attachment - MsWord document) £5.00
Earlier recordings in the sound archive have been professionally digitised from original tape recordings and cleaned. On some of these however it has not been possible to remove all unwanted noise and we cannot guarantee 'broadcasting quality', but for professional users technical quality notes are available via email on request prior to purchase. Please email for this service, quoting interview Code. Later recordings from 2005 onwards are of broadcast quality.
Please note that use of extracts for commercial publication is subject to the Ambleside Oral History Group's written permission. Terms and conditions are printed on the Order Form
Please click here to download a printable order form (pdf document).
If you do not want to search the archive yourself, we will undertake transcript searches for topics and supply extracts by email at a cost of £25 per operator hour, with a minimum charge of £25.00, payable in advance. This is only chargeable if material is found, but applies whether any found material is subsequently used or not. Please email to request this service, quoting a contact telephone number.