Ambleside Oral History Group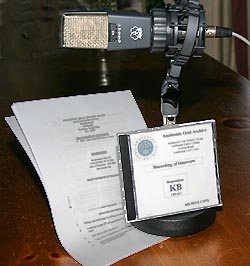 commenced recording in 1976 and has created an Archive of over 450 interviews, on almost every subject related to life in Ambleside, Cumbria, and its surrounding area, in the Lake District of England, beginning with memories from the 1880s.
More recently, interviews have focussed on contemporary events with a view to having fresh memories available in the decades to come.
Access to the Archive
The archive exists in both printed transcript and electronic document form, as well as sound on CD. The transcripts are searchable by topic or keyword from this site. We also host the archive transcripts of the Windermere Oral History Society, Lorton & Derwent Fells History Society, the Clearwater Project of the Freshwater Biological Association and the History of Keswick Theatre, which are also searchable.
Recordings of Ambleside Oral Archive interviews are available as MP3 files, a full interview is priced at £12. There are restrictions on usage. Email us to enquire.

Members of the Group give presentations locally accompanied by extracts of recordings on a variety of topics, by prior arrangement.


The archive contains material on a wide range of subjects.
It is likely to prove particularly valuable on the following topics:
Some contributors



Bell Ringing
Blacksmiths
Bobbin Mills
Building
Carriers
Choirs
Childhood and Education
Charlotte Mason College
Death
Domestic Service
Farming and Country Life
Gardening
Health and Doctors
Hiring Fairs
Hound Trails
Hunting
Life in Ambleside
Life in the Langdales
Life in Grasmere
Life in the Big House

Local Industry and Commerce
Mountain Rescue
Observer Corps
Quarrying
Rock Climbing
Ruskin Lace
Transport
Thirlmere Aqueduct
Sport and recreation
Wildlife
Woodland Crafts
World Wars I & II
The collection is constantly being expanded.
THE WAY WE WERE
In 1988/9, the Westmorland Gazette newspaper published a weekly series of 76 articles entitled 'The Way We Were', compiled from interviews from this archive.
Read them all here